When I ponder the question as to why anyone in this world would ever consider spending time writing novels, I often think about the world's greatest works of literature…. And that thought, idle as it is, often leads me to think of the great Russian novelists Tolstoy and Dostoevsky.
What did these men have in common?
Were they both rich? Aristocratic? History tells us that the answer is no – while Tolstoy surely was an aristocrat of the highest order, Dostoevsky was compelled to write novels because of his financial difficulties.
Was it something special on the part of the Russian character? Maybe.
At the same time, the sheer variety of different personalities and inclinations around the world is so varied that any attempt to speak of a systematic difference between human beings purely on the basis of national origin is likely to fail.
Still, it is worthwhile to investigate – what else was common to them? They lived in one of the most torturous environments that the world had ever known, and survived.
That they did is a miracle, as it is for the survival of all of us to different degrees amid the circumstances of life – and as almost all of us know, either through teachings or simply through life experience, whatever does not kill us shall only make us stronger.
Russia in those years was a place of cold, frost, political absurdity, and deprivation; it was a time of revolution and chaos, as multiple people attempted to usurp the prevailing powers because they could not accept the society that they had been thrust into. As they went through profound searches for spiritual and moral grounding in a world that they could not accept.
It is in that light that I think about the seminal work that they must have accomplished and consider how all those words that came out of them perhaps were responses to their environment.
I imagine them sitting by their bedside tables writing through the winter as they pen down words as if trying to stave off the onset of the punishing cold that encroaches at every minute just from the outside. I imagine them poring over manuscripts as the toils of deprivation, war, and social theories gone wrong amidst a chaotic civilization play out in a theatre of the absurd that it is easiest not to confront but rather to escape from by departing into a world that is outside the concerns of the ordinary.
I see them in my mind's eye creating worlds that do not exist to compensate for one that does exist and is crushing in exterior form.
Suffering conditions the mind in this fashion by forcing it to look inwards, and to reflect upon circumstances, and to consider that at the end of the day, when a person simply is sitting there and reflecting on the inner self, they can realize certain things that they may not have been able to if they were simply consumed with the external world, and things that might otherwise be favorable in an alternate state of reality.
It is neither to say that suffering is desirable, nor to say that we should wish it upon our fellow men, but certainly it can be said that some of the world's greatest breakthroughs are breakthroughs that were brought about in the same manner that Dostoevsky and Tolstoy brought about the Brothers Karamazov and War and Peace, respectively, through this period of inner contemplation and insight, which I think that suffering facilitates and makes a part of daily experience, but that somehow or another we are able to integrate into our daily lives by simply becoming mindful and dedicating time towards reflection.
Perhaps though, that may be something altogether too optimistic.
Perhaps reflections or breakthroughs of that level are only possible when or if someone truly goes through the process of formulating the daily decision to pursue through a journey or quest towards one's intellectual truth, each and every day, regardless of the circumstances, running towards it as if a madman, deprived of water and overcome with rabies, rushes towards the direction of water that cannot quench his thirst.
Yet, it would be altogether wrong to say that suffering is part of an aetiology of success. Not all suffering leads to excellence, for if it did, then the entirety of Russia perhaps would have solely been a nation of Dostoevskys and Tolstoys, though we do not see that this is the case. Suffering exists everywhere and in every nation, from the richest to the poorest, from those beset by intense drought and heat to those overcome by the onslaught of unyielding cold and ice.
Whether it is by fire or ice that any world should end, though, there are always some who can thrive in their particular response to their surroundings. And it is within this response and the way that it comes about that the true miracle of any emancipation must surely come about.
It is perhaps as Mewtwo said in the Pokemon movie…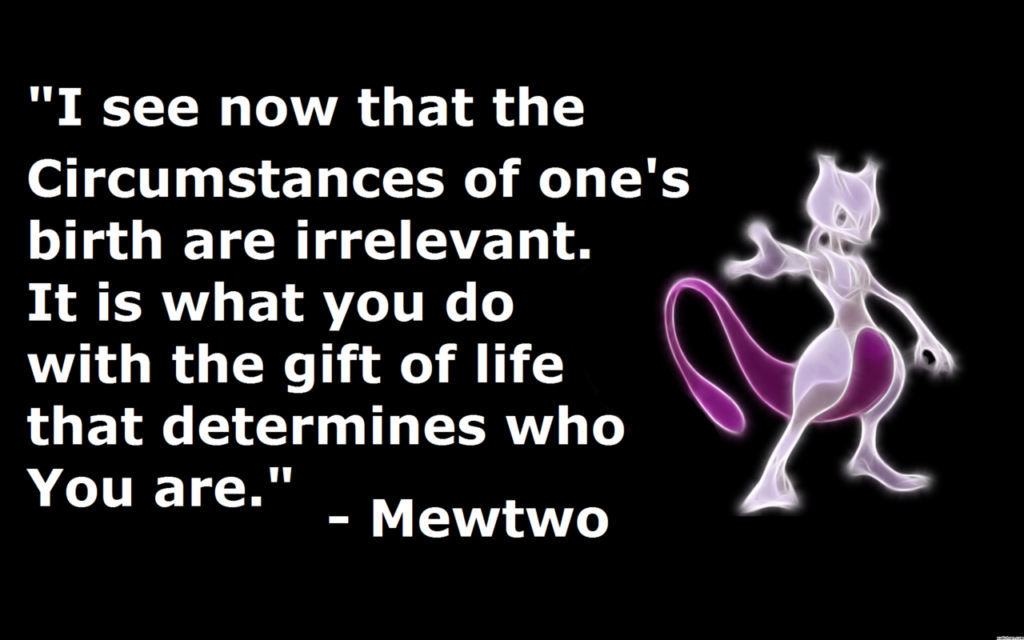 I believe this to be true in many cases, and across a range of possible environments.
The mind is an incredibly powerful though, and it is interesting to consider the means by which a person might reach the state of enlightenment that the two seminal authors that I had mentioned had arrived at as they arrived in a pantheon of eternal enshrinement within the hallowed halls of commemoration that celebrated our finest literary masters.
As I contemplate their lives, I wonder how and to what extent it is possible to implement some of the lessons from their sufferings and to translate those into the broader question and its answers of how a person may reach progressively deeper levels of enlightenment in the course of this life.
One immediate thing comes to mind though. People are remarkably resilient, although oftentimes it is unclear what it is that they are being resilient for; they often do not suffer from laziness in the way that we would expect, because if given a suitable direction to progress in, most people would in fact go forward without abandon, provided that they have the right process in place.