Today, I had the incredible opportunity to interview a software developer from Maps72 about the role of ChatGPT in software development, and you'll have the opportunity to watch it right here:
For a description of the event, I guess you could just read the description that I placed on LinkedIn (Feel free to connect!):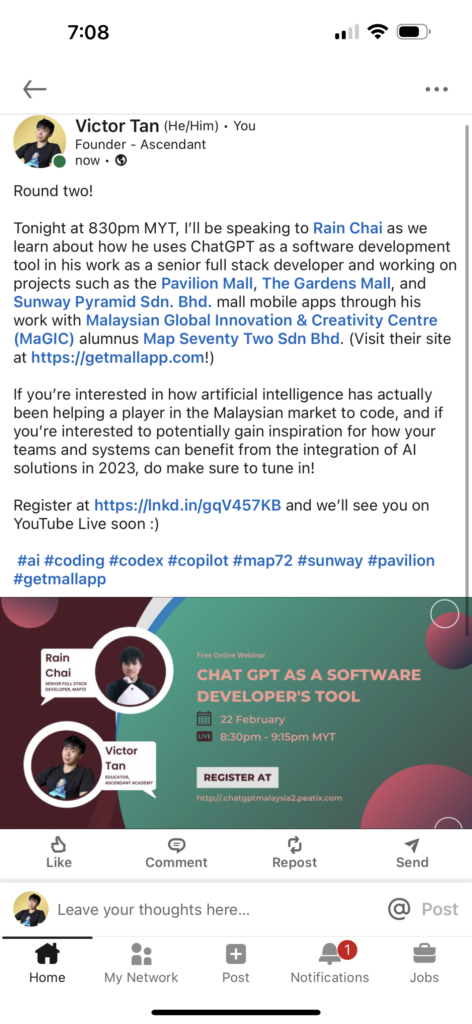 It was my first time hosting an event and a chat like this in a while, and I really enjoyed learning from Rain throughout the course of this rousing conversation. Please enjoy the chat and what it brings, and I hope that you learn a ton from it!
I'll be trying out a tool that Si Eian (one of my numerous friends from the ChatGPT group) told me about recently, which allows a person to just go right ahead, summarize a piece of work, and then have the takeaways all available and on hand – but if you have the time, I highly recommend that you take the time to listen to Rain and everything that he has to say because he is a consummate professional, a wonderful speaker, and it's going to give you specifics for how you can level up your software development game in 2023. 🙂
Also, hmm – I know that I was a little bit emo in the post a little earlier today, but trust me when I say that a lot of interesting things are lining up in this world for me for some reason.
I don't quite know why and I don't quite know how, but they are somehow – and I'm very happy for it.
Lots of new friends along the way, lots of new joys, and lots of peace that each day is somehow meaningful, educational, a chance to share new things with the world that I would have never imagined having just a while ago 🙂
Cheers and here's to the next part!!