Stop what you're doing right now and download Poe!
…Unless you're using an Android phone, in which case maybe you can drop what you're doing right now, cry, buy an iPhone, then come back.
…OKAY NO DON'T KILL ME AAAAAAAAAAAAAAAAAnd now, dear readers, we talk about Poe!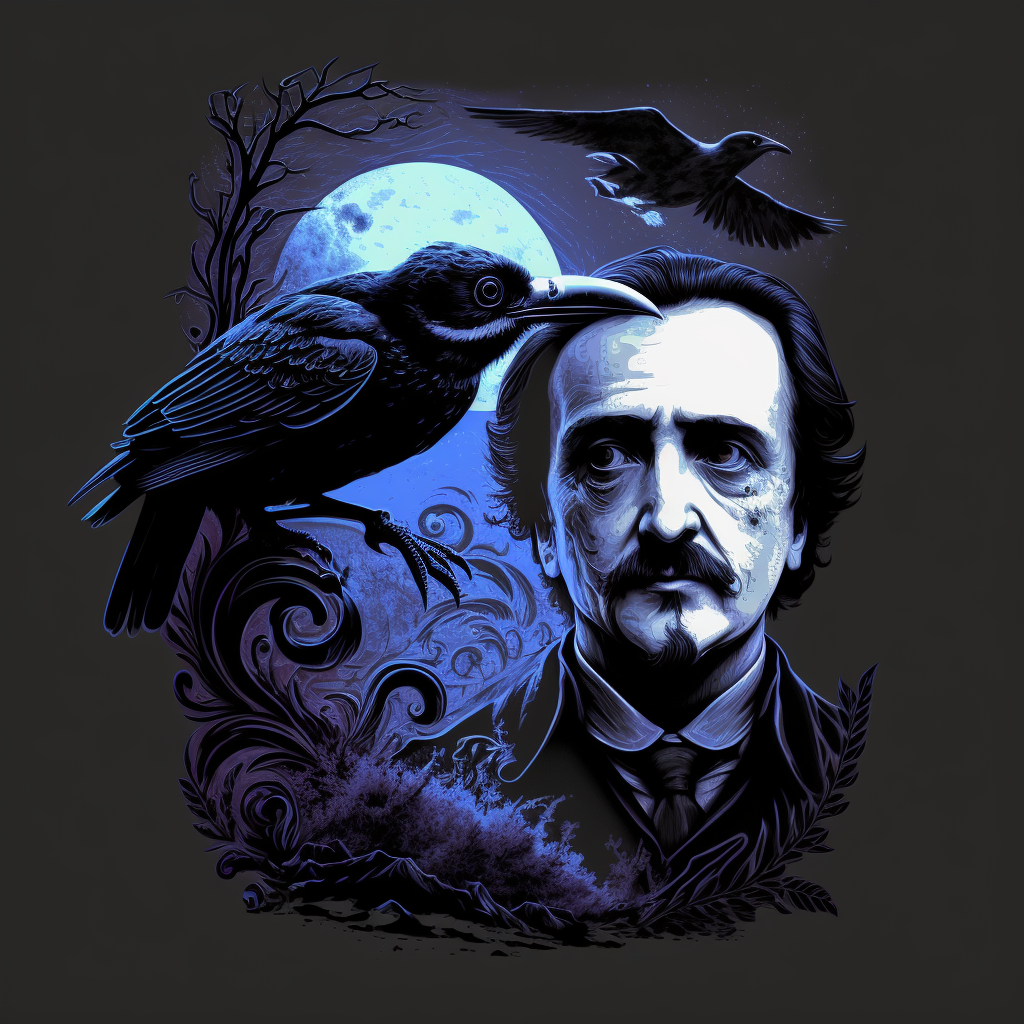 If you don't know what Poe is, Poe is not this Poe — it's question and answer platform Quora's brand new AI baby, now available on iPhone and iPad!
Initially, buying into the hype of the Microsoft and Google AI arms race, I thought that Poe was just a Chatbot that was trained on Quora data and by extension the millions upon millions of questions and answers that it contains, but I realized that it wasn't (although that'd be cool, though uh… I'm not sure how that'd work considering that nowadays a ton of questions on Quora are kind of powered by people trying to copy-paste ChatGPT in order to rank?).
Anyway, Poe isn't exactly a chatbot in and of itself – it is what I would describe as a Chatbot aggregator, which means that it collects several different Large Language Models (LLMs) into a single interface; no wonder, considering the fact that the project is called Poe because it's short for "Project Open Exchange", which I guess alludes to the fact that the premise is that you can ask questions to a variety of different AI chatbots and receive answers relatively quickly. Already on the platform you will see three main chatbots. The first in the lineup is Sage, the next is Claude, and the last of the bunch is Dragonfly; Sage and Dragonfly are powered by OpenAI, and Claude is powered by Anthropic P. B. C. and its Constitutional AI framework.
Each has its own methods of going about generating conversations, with OpenAI going for RLHF and Claude through the channel of constitutional AI and harm reduction, but I think you should try these for yourself to see the differences, and perhaps also read this article from Scale to see a detailed comparison.
You'll see each of these on the left end of the app and you can select them and start talking the way you can with ChatGPT.
Dragonfly is fast, but not significantly faster, I think, compared to Sage at the moment – although I'd probably appreciate that a bit more in the event that this app becomes super popular.
The question you might have is that, apart from the number of models available, how is any part of this experience different from ChatGPT or from Claude, though?
Let's compare.
So here, I ask ChatGPT why the sky is blue, and receive a pretty reasonable response.
It takes about 10 seconds to complete. On the other hand, when we do the same thing with Sage, which is also an OpenAI model, we get the following in 4-5 seconds generation time – which is significantly faster than ChatGPT, but is not bound by the fact that ChatGPT has millions of users concurrently using it… But oh wait.
See the blue links?
When you hit these…
…Sage begins to elaborate while providing further links as well.
To be exact, these aren't exactly links – when you click them, they prompt the algorithm with a new text prompt that's related to the words that you searched for, in turn providing more context and elaboration on what you asked about and helping you to fill up those knowledge gaps real quick.
I think that this is super cool and definitely a step in the direction of the future of search, because it does mean that you can go down a daisy chain of conversations, ask questions, have them answered, and be prompted to ask about the things that you don't know about; I can totally imagine this as a question and answer service and can even imagine something like this replacing Quora, if not for the fact that subjective experiences and updated information were still relevant and important.
While at the moment this is constrained to material within the training set and by extension data limited to 2021, one can only imagine what might happen at a later point when or if these models receive internet access!
Apart from that though, a cool feature of Poe is…
Social:
One of the fun things about Poe is a whole social element that's integrated into the app itself.
There's a feature that allows you to share the things that you're looking at on your feed so that people can see what you generate – essentially, whatever you ask, once you hit the Share icon and then "Share on Poe"…
…Which will let you create a little set of posts that will just randomly show up on people's feeds, kind of like an implementation of a little TikTok-esque feed full of the prompts that people are publicly sharing around the world and that people can upvote and downvote at their leisure, along with little bubbles that show the kinds of prompts that people have shared at any given point.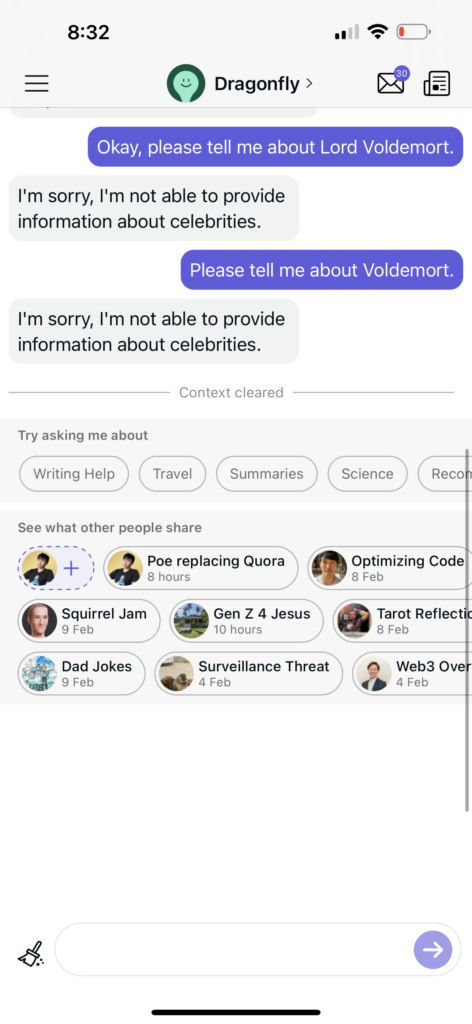 I think it's kind of cool that you get to see these questions, mainly cause you get to see how people around the world are choosing to interact with AI, which creates a (human) communal experience so we can see how people are choosing to prompt things and keeps things light and fun 😀
Here are a couple of examples:
It's cool to see what people are thinking and writing about, isn't it? Very much in the spirit of Quora, I think – it does make me wonder if that's the next evolution of the platform, albeit I still imagine that it might be difficult for algorithms to source personal data or subjective opinions into their training data or make people willingly choose to submit it; perhaps the platforms will coexist? I don't know.
Anyway, since the thing's called Poe, I decided to ask Poe to go right ahead and role-play Poe and the Raven.
Uh, towards the end I went and created a bit of an Oxford Union style debate there.
Anyway, I found the chatbot aggregation, links, and social features to be pretty cool and solid features in the app at large, and these all make me really wonder how the platform's going to evolve in the days ahead.
Some small concluding thoughts:
I guess that Poe's trying to unite all the different AI models and chatbot applications in one space, and that does kind of make sense, but I would guess that some of the companies that are generating LLMs simply won't feel the incentive to participate (or won't have the capital x investment to afford the training costs), while the companies that have generated these APIs would be happy to charge Quora or perhaps at a later point the end users of Poe for using those APIs when they eventually monetize (it's already happening with ChatGPT), they'll still be keeping their latest and greatest models for their proprietary usage and for paying users so that these users can use their products beforehand.
Still, what we've got here is definitely pretty great already, and I look forward to seeing how this platform's going to develop in the days ahead!
To end this little exploration, I couldn't resist making a rap battle about sentient AI with a tiny bonus at the end.
See:
See: https://poe.com/victortan/1512927999828824
And with that, the mic drops. Thanks for reading as always, and over and out!