The Little Robot That Could Paint?
Uh, I'm just going to guess since you clicked a whole link and all, but uh…
…I guess you wanted to learn about The Little Robot That Could Paint?
Well you're not alone, because at the outset, this wasn't even a book that I thought I was going to release!
For one thing, the kinds of things I write are usually educationally tailored to students applying to college and tailored to teenagers and adults, catering to learning how to write – but when I started experimenting with OpenAI's ChatGPT, I was inspired to start creating something that could teach the younger generation about artificial intelligence and what it's all about because I think it's incredibly important for children to learn about new technologies and what they can do.
While I do this in my English essay-writing classes, I thought to do this on a wider scale and to a larger platform for younger students as well – hence The Little Robot That Could Paint!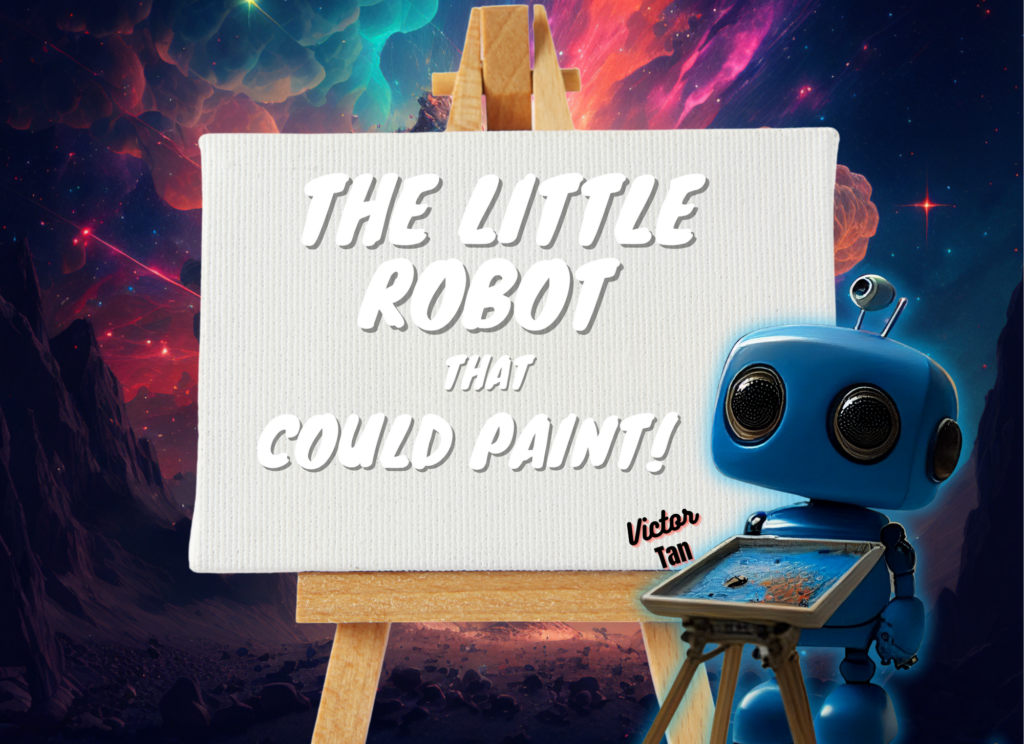 The story of Robo is about the journey of a super-intelligent farm robot that has the capacity to learn extremely rapidly with his computing power, and who has learned everything in the world – only to get bored!
Due to a magical accident* though, he decides that he will learn how to paint and embarks on an epic struggle to find out how!
The book itself was generated by the artificial intelligence software Midjourney, which allows you to create artificial intelligence art in response to prompts.
If you're a parent or you're involved in the artificial intelligence/machine learning industry, you perhaps can recognize here that there are some concepts at play here such as machine learning (whereby a computer learns how to do particular tasks without being explicitly programmed), artificial intelligence (whereby a computer learns how to perform tasks as a result of machine learning programs – or algorithms) that your child will learn about.
While these may be some difficult concepts when studied in depth, I've had no issues thus far with showing it to my students, some of whom are as young as 10 years old, and I think it's worthwhile to expose your children to these ideas in preparation for a world where AI will become commonplace, technologies like ChatGPT will become ancient and outdated, and many other things 🙂
Thank you for reading, and if you find this meaningful and would be interested to pick up a copy of The Little Robot That Could Paint (on Kindle only, for now!), do feel free to visit this link.
*I won't spoil you, but I will say that I did some physics research in order to understand how to depict the event in question, which is an actual physical event that can take place, but that has never actually taken place in the history of planet Earth before albeit I visualize it using AI.
Edit: I've been listening to lots of feedback from my wonderful ARC readers (thank you so much, and you know who you are!):
Since I know a lot of you will be reading the book along with your children and might have some difficulty explaining some of the concepts, I've included a little glossary along with the book that I hope will make it a bit easier if you need to explain anything: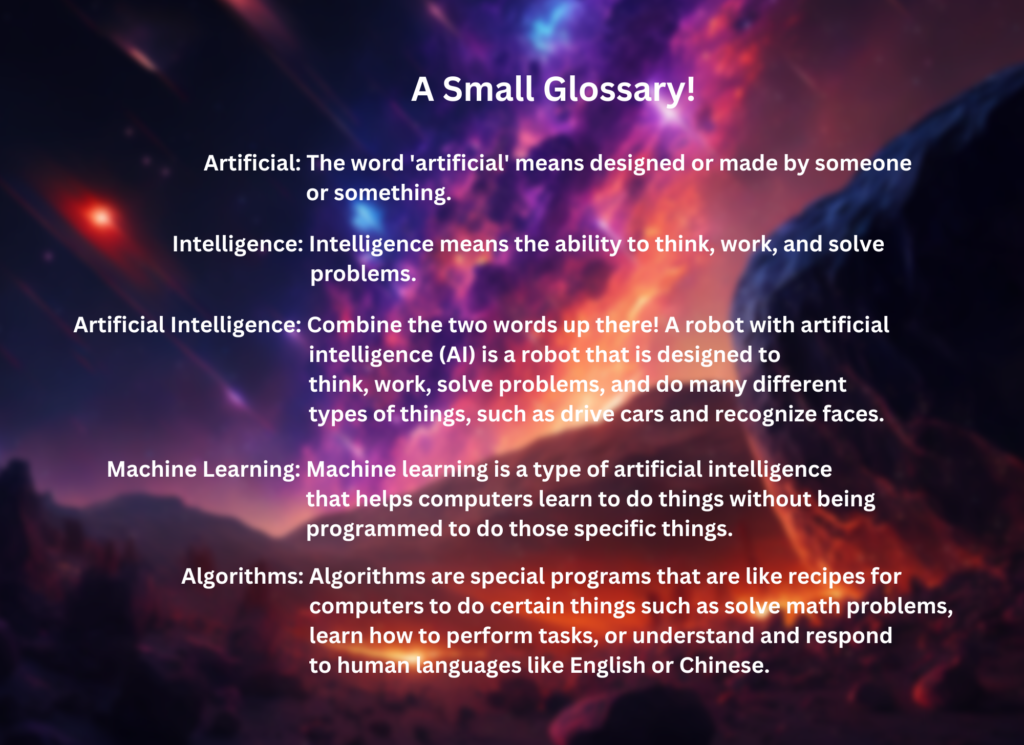 Feel free to reference this as you explain the story, and I hope that you'll enjoy the process of sharing in this lovely little tale that I'm very happy to have made!
– V